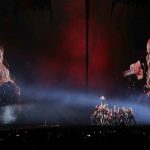 "When you think Tim McGraw…" longtime Swifties know this one!
You might have gotten a peek at this from Taylor's instagram story, but here's the whole video from a fan. Taylor's Reputation tour made it's final stop in Nashville, and Taylor had some special guests, as she often does. She sat down at the piano to play Tim McGraw–her very first single–and the crowd went nuts, and immediately started singing along.
For the second verse, Taylor introduced Faith Hill, country superstar and Tim McGraw's wife, and then for the grand finale, Tim himself came out and they all finished it together.