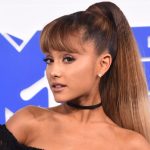 If there's one thing we can count on, it's how awesome James Corden's Carpool Karaoke episodes always are! Hearing that Ariana Grande is scheduled to be on an upcoming episode of the Late Late Show's most popular segment was exciting news… until we found out she somehow managed to injure herself while filming?! While the specifics on how the injury happened haven't been released, the star managed to joke about it on social media, making sure everyone knew she was okay!
but i LOVE my bandage it looks sick @JKCorden i'll be ok one day pic.twitter.com/uBABjvksVP

— Ariana Grande (@ArianaGrande) August 7, 2018

She even spoke about how much fun she had filming. This hand injury comes at an ironic time as Grande's fiance Pete Davidson was left dealing with his own hand injury earlier in this month while also filming.
James Corden didn't comment on the hand bandage, but did tweet about how this episode may be his favorite yet… which is an impressive feat considering stars already featured on the segment include Adele, Selena Gomez, One Direction, Paul McCartney, and more!
Blog by Courtney Zubey