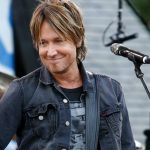 Keith Urban was performing at the BB&T in Camden, NJ Friday night and made a Wawa run in Medford. He was short on cash. But Ruth Reed, a substitute teacher was there for the save!
Ruth Reed wrote in a post that was shared by one of her students…"For three years, I have made a resolution to once a week treat someone at Wawa. Reed wrote that it happens to her more than once a week, and that her friends had given her extra money to spend at Wawa. Who knew it would end up being a Superstar!
Pay it forward…Good things happen to good people!
~Angel Donato
My favorite story of the day is how my 3rd grade teacher thought @KeithUrban was down on his luck and couldn't pay for his wawa snacks so she bought them for him. What an angel. pic.twitter.com/mJccVOQWtp

— Olivia Rose Prouse (@liverdiverz) August 4, 2018