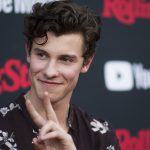 If you are not too keen on the fall season fastly approaching maybe this news will help!

Eek! Shawn Mendes just tweeted:

Performing @NFL #Kickoff2018 in Philly on September 6th at 7:30pm ET on @nbc. Make sure to watch! pic.twitter.com/ryX7QqDDj6

— Shawn Mendes (@ShawnMendes) August 3, 2018
I hope he sports an Eagles jersey!
Thanks for stopping by,
**jes.jordan**