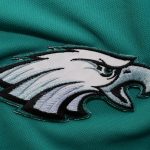 Can you even believe we're just a few weeks away from Eagles training camp practices!? Here's your chance to see the Super Bowl champions practice this summer.
The Eagles will have two open practices during training camp requiring free tickets. The tickets  are all general admission. You can  get tickets from ticketmaster.com starting at 10 a.m. on July 18. Seating will be first-come, first-serve. 
Sunday, Aug. 5 at 7 p.m. (Military Appreciation Night) at Lincoln Financial Field.
 
Saturday, Aug. 11 at 10 a.m. (Family Day) at Lincoln Financial Field.
 
There will also be free activities on those days, including face painting, alumni autographs and green screen photos.
Parking for both open practices will also be free!! We like FREE!!
The Eagles report for training camp on July 25! The first team practice will be on July 26 at the NovaCare Complex. All but those two open dates will be held at the NovaCare Complex and will be open to only select season-ticket holders and partners.
Training camp ends on Aug. 14. The preseason begins on Aug. 9 at home against the Steelers.
Fly Eagles Fly…E-A-G-L-E-S…Go Eagles!!!
~Angel Donato