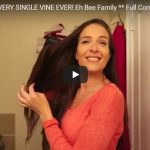 Hello!
How is summer vacation going for you and your kiddos? This summer we skipped the camp thing. They had ZERO interest in camp…I was pushing for it (partly because I was so nervous to have 3 kids home all day, 3 against 1 are not the best odds) but, they wanted no parts. And so here we are, 6 weeks into the summer and believe it or not it was a great decision to skip camp.
Now, don't get me wrong, my neighbors have probably heard my dinosaur scream through my closed windows a few times, but for the most part, I am LOVING the no alarm, no plans, no rush, no responsibilities this summer has given us.
My girls are sleepers. Sheesh! They go to bed around 10 p.m. (much later on the weekends when I home at night) and then sleep until 9, 9:30 sometimes 10 a.m.!!!!! No complaints. I have TWO cups of coffee in peace and life is real good.
I would be lying if I didn't tell ya their iPads help with babysitting! lol For real though, when my girls are on their iPads it's like I don't even have kids. [smh] It is kinda scary, kinda nice, but kinda aggravating all in the same breath.  But, I said all that to say, Eliana found this video on YouTube and wanted me to share it with you. It is a SUPER LONG video, so I asked her to watch and write down the times of her favorite parts so you don't have to watch all of it! lol  I don't even think she made it thru the whole video.
Eliana is a sweet pea.
Her favorite parts can be found at :
6:43
7:52
8:26
8:38
10:03
10:34
14:03
14:15
We hope you found some humor in there. I was in the kitchen when she called me over to watch the first time (6:43). After I watched it I was kinda taken back that my little 9 year old understood what the video was saying, and somewhere in there I knew the message was for me: Love these times, because they grow so fast! So often I get caught up on having a tidy house, perfectly folded clothes, and beds, no dirty dishes and clean floors…meanwhile does any of it matter…?? I certainly don't want them to grow up in a dirty house, but there has to be a balance and I am hoping this Summer (we only have 6 more weeks) I can grow as their Mommy in this area and care MORE about my time spent with them and less about how my house looks.
Thanks for stopping by, and cheers to the Moms of the world! None of us know if we are doing it right, but we still show up every day to try again! Give yourself and your fellow Mom friends a pat on the back.
jes.jordan.
Eliana. Axelle. Shiloh.