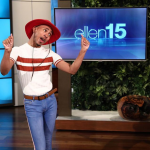 Saturdays are now SaturKays according to Ellen's Instagram video.
Temple University's very own Kalen Allen will now have his own series with The Ellen Show! The announcement came earlier this month when Ellen debuted her newest project on instagram "OMKalen" starring the viral sensation Kalen Allen. The series will be a weekly online round up of all things pop culture hosted by Allen. The show will air Saturdays on Ellentube.
In Episode 1, Allen covered everything from Kim Kardashian's White House visit to Drakes surprise baby and even Japanese Game Shows.
You may remember Allen when he was first invited to The Ellen Show back in January when his hilarious food review went viral . After his appearance, DeGeneres and Allen sign a deal to produce content for Ellentube. Since then Allen has reviewed New York Fashion Week, the Royal Wedding and even the red carpet for the 2018 Billboard Music Awards!
Make sure you check out Ellentube every Saturday to catch the latest episode of OMKalen!