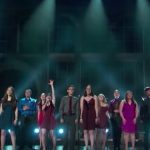 Ready for your Good Cry of the Day? ICYMI, students from Marjory Stoneman Douglas high school in Parkland, Florida, made a surprise appearance at the Tony awards on Sunday night. They performed "Seasons of Love" from RENT, in honor of their teacher, Melody Herzfeld, who was awarded the 2018 Excellence in Theatre Education Award.
As part of the award, the MSD High School theater department receives a grant of $10,000.
And, they get the honor of making the entire Tony audience cry.
"Measure your life in love."
Follow Andrea on twitter at @_AndreaDuffy