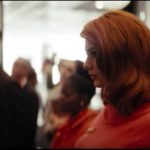 I'm sorry the Old Taylor can't come to the phone right now…
This originally WAS a Taylor Swift song, one she wrote with Pat Monahan from Train for her RED album, but when it ended up not being used she offered it to Sugarland.
Taylor appears in the video, about a woman sifting through the wreckage of a cheating lover (a VERY Taylor thing to sing about)…and she's playing the other woman. She's in a red "Joan Holloway from Mad Men" wig and she has all the fun while Jennifer Nettles' Wife character sings her heartbreak.
And yes that's Brandon Routh as the cheating dude.
What do you think of Taylor's role reversal?
Follow Andrea on twitter at @_AndreaDuffy