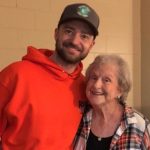 Remember Nammie? She's a great big Justin Timberlake superfan! She went viral a bit ago when her granddaughter posted an Instagram video of her being moved-to-tears excited about getting JT tickets in her Easter basket.
"Is this for real, real?" She asks, and adds, "I've been trying to figure out how to save money to go."
WELL.
Nammie thought going to see Justin in concert would be the highlight. And she was wrong!
FIRST Nammie got to meet Justin backstage before his Man of the Woods Tour show at the Amway Center in Orlando. He was delightful.
THEN in the middle of his show Justin gave Nammie a shoutout from the stage.
"I wanna give a special shoutout…there was a pretty little lady that ended up on the news here by the name of Nammie. She is 88 years old. And I met her earlier tonight, wherever you are in the audience tonight…[everyone in the audience starts pointing to her like "here she is!!" which is my favorite part]… there she is..I love you!"
Best night ever. Congrats Nammie and fam!
Follow Andrea on twitter at @_AndreaDuffy