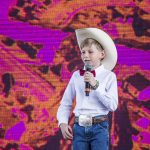 Recently in the world of music, an 11 year old yodeling mogul has taken the world by storm! Country boy Mason Ramsey from Illinois has always yodeled as a passion with the dream of performing in the Grand Ole Opry. With the hopes of his dreams coming true, Ramsey would perform at his local Walmart on a daily basis where many would come to recognize his talent. Linked here is the video of Ramsey which went viral on a variety of social media platforms, leading to just the start of his dreams coming true.
At first, the internet wasn't sure how to react. People recreated the video on their own terms in Walmarts all over the country, and some even suggested that Mason should perform at music festivals. The video took the internet by storm, resulting in millions recognizing Mason as, "Yodeling Kid," including Ellen DeGeneres.
Mason and his family were sent out to California by DeGeneres for an interview as to how the phenomenon became interested in yodeling, while discussing his dreams. DeGeneres surprised the family by not only providing Ramsey with a $15,000 scholarship provided by Walmart, but the ability to performing at the Grand Ole Opry this past Saturday!
Ramsey's journey from small town country boy to performer is just getting started as his live performances continue to add up. In fact, at the Coachella Music Festival located in Indio, California, Mason appeared as a surprise guest between a set this past Friday where he performed and met a variety of celebrities, including Justin Bieber and Whethan. Big things are coming for Mason Ramsey, and it's just the beginning!