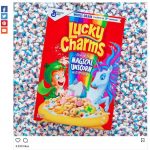 Now we're talking!! Just in time for St. Patrick's Day…Lucky Charms just became a little more magical than usual.
Lucky Charms just unveiled the first new marshmallow in 10 years! The Magical Unicorn! General Mills just retired the hourglass marbit marshmallow earlier this month and this just has been begging to be created. Why did this one take so long?! Lucky Charms asked users on social media to vote which marshmallow they wanted next….and they replied back by using an emoji. It's the first ever charm to be created by kids.
The marshmallow will continue to feature the eight charms we love and know: Hearts, Stars, Horseshoes, Clovers, Blue Moons, Rainbows, Red Balloons and now Magical Unicorns. It has already begun to appear in some boxes but will become more widely available by March!
They really are Magically delicious!!!
~Angel Donato