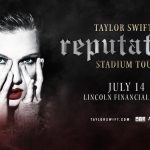 Taylor Swift's reputation Stadium Tour is coming to @LFFStadium on July 14! Register now at https://t.co/lBcpUeeFuu. pic.twitter.com/dyYwt3BgVq

— LincolnFinancialFld (@LFFStadium) November 13, 2017

Good news if you spent the weekend listening to Taylor's newest album: she just announced her TOUR! Here's the info from the Lincoln Financial Field twitter just a few minutes ago. Taylor's Reputation Stadium Tour will hit Philly next Summer: July 14th 2018.
So you wanna get tickets? WELL THAT'S A LITTLE COMPLICATED.
Taylor is now part of the Verified Fan program, an effort to keep tickets out of the hands of resellers and scalpers (which is good!). What you do is create an account or login with your Ticketmaster account at tickets.tayorswift.com. Then you need to go through a few steps, including giving them your mobile number, to get "a place in line."
So, this is where it gets complicated (and where I start to give it side-eye): you can "boost" your place in line by doing different things. By buying her album. By posting on social media. By buying merch. By watching videos posted to the ticket portal. Through a referral code by making your friends and family sign up (for Taylor Swift tix? Unclear). By posting a photo of that UPS truck that's been tooling around. The amount of time you spend on any or all of these things will determine how far you "move up" in the line. Then, on November 28th, they'll lock the line, setting everyone's place. You'll be sent info about the onsale after that.
So here's where my side-eye comes in. Have you also noticed that basically you're throwing money at Taylor Swift in order to get the opportunity to buy tickets? The boost program doesn't guarantee you tickets, unless I guess you're pretty far up in line. Don't forget that your social spaces have value, too. It's technically a "free" activity but you're giving Taylor Swift advertising on her terms and to her specifications. And you're giving her your time: have you ever had invest this kind of time and effort for the chance to buy concert tickets?
What's the alternative, though? Sign up, do nothing and cross your fingers that you'll "just" be able to buy a concert ticket? If a base ticket is $50, how much extra money do you have to invest in order to even get a shot at buying it?
But, of course, the alternative is to stick with the Wild Wild West system we have now! I don't know, man, I don't know.
I've never dealt with this before, or even know any artists that have? If you have info about Verified Fan and boosts I'd love your input!
Follow Andrea of twitter at @_AndreaDuffy