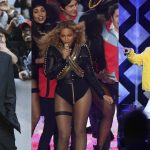 Neighbor helping neighbor. Together. #HandInHand @selenagomez

Live tomorrow 8 PM EST:https://t.co/s83ifdAVdB pic.twitter.com/3J5aoTBeIW

— Hand In Hand  (@handinhandfund) September 11, 2017

It was originally supposed to be a benefit for the Houston area victims of Hurricane Harvey, but then Irma happened. Seriously did you ever think you'd see the day when we had to combine our disaster relief telethons? But here we are, huh.
Hand In Hand airs commercial-free tonight starting at 8p on ABC, CBS, NBC, Fox, Bravo, CMT, E!, HBO, MTV, and Oxygen. It will also stream live on twitter, facebook, and youtube.
It's going to be HUGE: the telethon will broadcast live from LA, New York, and Nashville. Scheduled to appear are Beyoncé (who's been in Houston btw), Justin Bieber, Gwen Stefani and Blake Shelton, George Clooney, Oprah, Drake, Reese Witherspoon, Julia Roberts and Stephen Colbert.
Listed beneficiaries on the Houston side of things are United Way of Greater Houston, Habitat for Humanity, Save the Children, Feeding Texas and the Mayor's Fund for Hurricane Harvey Relief, but the reach of the telethon has expanded to include relief for Irma victims as well.
"The entire amount of donations from the public received by Hand in Hand Hurricane Relief Fund will be distributed to charities working on the ground the affected areas," says the Hand In Hand website.
Hand In Hand airs at 8pm ET across multiple networks, You can also donate through their website.
Follow Andrea on twitter at @_AndreaDuffy