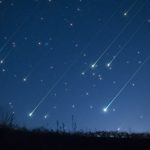 I know the meteorological-phenomena fandom is all "solar eclipse!" right now, but another big event is happening: the annual Perseid Meteor Shower.
The Perseid Meteor Shower will be at its peak today, Saturday August 12th. It's one of the most popular ones for stargazers because you can spot up to 90 meteors per hour.

Now, around here it might be a little tricky. We're looking at some rain, so it might not be clear enough to see much. But that's no reason not to give it a shot if you want to try to catch some shooting stars. This post suggests finding the darkest open space you can–so turn off porch lights etc, get away from street lights, make it as dark as you can, I have a friend who's got a field all picked out–and try to time it so you're out after sunset, but before the bright waning gibbous moon rises around 11pm.
Are you going to try to spot the Perseids? Tonight is the peak, so your best chance to see them, but if the clouds get in your way the shower does continue through August 26th.
Happy stargazing!
Follow Andrea on twitter at @_AndreaDuffy