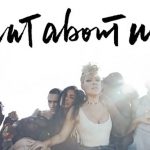 Here's the lyric video so you can sing along when you hear it on the station!
I know Pink has an amazing voice, but hearing this song I'm still like "dang Pink has an amazing voice."
I first heard this song by overhearing it, it was blasting in my Program Director's office next door to our DJ prep area. Not the best listening quality but WOW it gave me chills. Then I heard the morning show play it and loved it even more.
Her new album Beautiful Trauma drops Friday October 13th, and if it's anything like this first single it's going to be amazing.
What do you think of the song?
Follow Andrea on twitter at @_AndreaDuffy