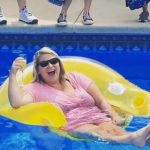 Can you relate?
Jena Willingham and her family live in Beulah, Alabama, and her three kids started school on Monday. She took this photo to celebrate in a funny way, because as she told Buzzfeed after her photo went viral, it's been a LONG SUMMER:
"It's the first time in 11 years I haven't had a kid at home. I was excited to get a break because they're a lot of work.They have been fighting over everything all summer…over who's going to use the charger, who's going to sit in the front seat," she said. "So I said, 'I'm so tired of listening to y'all argue, I'm just going to sit in the pool on the first day of school and let my brain hear the silence."
Now, every year these pop up, with a ton of supportive comments, but also a ton of pearl clutching re: How Dare You Celebrate Being Away From Your Children. Jena is ready for those:
"I would just say not to feel guilty about wanting a break from your kids…I take very good care of them, and I deserve a break too!"
Cheers, Jena!
Follow Andrea on Twitter at @_AndreaDuffy