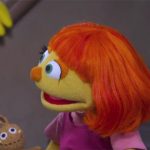 Meet Julia, the newest arrival to Sesame Street! You may have heard of her before, as Julia has been a member of the neighborhood on the show's Digital Storybook series since 2015.
Sesame Street's newest Muppet has autism: Meet Julia https://t.co/zvgER5Ce6H pic.twitter.com/6iWeqACjjB

— CBS News (@CBSNews) March 20, 2017
However, Julia is a unique muppet, as she has Autism. By making her TV debut on PBS and HBO this coming April, the series creators hope she will allow children to have a better understanding of their peers with autism, and that children with autism will have a character on TV with which they can relate.
According to the Huffington Post, when meeting Big Bird for the first time, Julia doesn't want to shake his hand. Her reluctance to engage makes Big Bird think she doesn't like him. However, Elmo explains that Julia just "does things a little differently." By consulting with various organizations that provide service to families affected by autism, the creative team settled on which behaviors to highlight that children with autism may exhibit. In addition to her interaction with Big Bird, the first episode also deals with her noise sensitivity and excitability when playing a game.
With its 1st Julia ep, Sesame Street hopes to deliver a message of inclusion. Elmo: We really like Julia. She's really special to us." pic.twitter.com/UpgbMQr1pt

— 60 Minutes (@60Minutes) March 20, 2017
What's even more touching is the personal connection the real-life puppeteer has with the condition. Stacey Gordon, Julia's puppeteer, has a son with autism, and "feels she was destined to play Julia, Sesame Street's first character with autism," according to CBS  News.