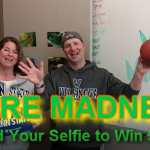 Our favorite Morning Show Team, Jenn and Bill, competed in a friendly shootout competition. Check out the video below to see who won! Winner got a FREE breakfast!
You too could be a winner and win up to $200 in Lottery Tickets! It's easy! Just upload a selfie of yourself wearing your favorite team's gear and ENTER HERE.
MORE MADNESS. MORE FUN. MORE MONEY. MORE FM.