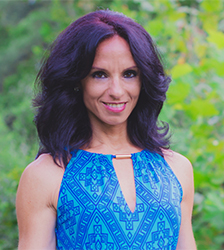 Nicole Amelio
Some of my favorites:
Hobbies: I love nature, hiking, skiing, music – many genres including Jazz
TV Shows: Modern Family, Last Man Standing, Blackish
Movies: Elf (Christmas movie), When Harry Met Sally
Actresses: Jennifer Aniston, Julia Roberts
Actors: Denzel Washington, Tom Cruise, Idris Elba, Henry Cavill
Authors: Edgar Allen Poe, Lisa Bevere
Places: Wrightsville Beach, NC or atop a mountain in Brekenridge, Colorado
Food: Authentic Italian food (my momma cooks the best!) NY Pizza, Philadelphia Bagels!
A little bit more about me:  A native New Yorker, I am very happy to be now living in Mount Airy, Philadelphia permanently. As a military spouse constantly on the move with my family for the past twenty years, I've embraced some really great professional opportunities along the way. I began my broadcasting career when I turned 30. I volunteered at National Public Radio where I learned the essentials of radio broadcasting. I later held positions at Cumulus Broadcasting and Saga Communications.
My broadcasting journey continued in Germany where I worked at American Forces Network as a TV and Radio News Reporter and a Command Information Specialist.  It was at AFN that my passion for producing stories about human triumph was born. I am currently producing a documentary "A Journey Back to Normal – A Look At Alternative Therapies to Combat PTSD."
I also have taught video production, public relations, advertising and promotions at the college level.   When I am not multi-tasking, I spend time with my NY Italian family and Philadelphian in-laws, and special friends and still keep in touch with my best girlfriends in North Carolina – it's my second home!