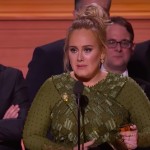 Look we all love Adele, and 25 was very good, but Beyoncé's Lemonade deserved that album of the year Grammy. Turns out, Adele agrees. Her acceptance speech started as a thank you to everyone who helped put the album together, and how grateful she is to come full circle, but…but:
"I can't possibly accept this award and I'm very humble and gracious but the artist of my life is Beyoncé and the Lemonade album was just so monumental and so well thought out and so beautiful and soul-baring"
She went on to talk about the power of Lemonade and what it's done for herself, her friends, and the black community. Beyoncé cried and mouthed "I love you" from the audience, Adele cried, we all cried.
Follow Andrea Duffy on twitter at @_AndreaDuffy