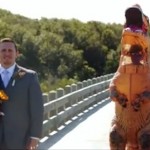 Quick, is that a t-rex coming toward you….or your beautiful bride?
So this is for one of those "first look" photos where the photographer sets up a meeting between the two people getting married so they can capture the surprise and awe–and sometimes tears!–when the one sees the other all done up in their wedding finery. It's a play on the "never see the bride before the wedding" idea that The First Look is a surprise.
I'll bet this dude was surprised. I'll bet surprised is an understatement. SHE DRESSED UP LIKE A T-REX. I am always in favor of t-rex costumes in random places, but this is amazing. Send the word out that the t-rex game has been upped. This gal is #Goals.
Follow Andrea on twitter at @_AndreaDuffy