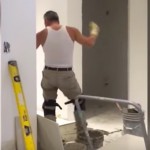 Those high kicks! Dude's got moves.
Is it weird that since I can't see you while you're listening to the show I just imagine you're all like this construction worker? He clearly loves this Ariana Grande song…he even knows where the chorus comes in. So clearly this is not a one-time occurrence.
Just another reason to always dance like no one is watching. I hope you get to have this much fun at your job.
Follow Andrea on twitter at @_AndreaDuffy