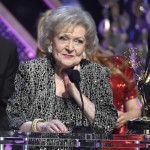 Betty White accepts the lifetime achievement award at the 42nd annual Daytime Emmy Awards at Warner Bros. Studios on Sunday, April 26, 2015, in Burbank, Calif. (Photo by Chris Pizzello/Invision/AP)
Yes it's absolutely real.
A fan has created a GoFundMe to raise money to help "protect" Betty White from being taken by The Crap Year That Took All Our Faves, 2016. You know like Prince, David Bowie, Carie Fisher, Debbie Reynolds, Alan Thicke, Alan Rickman, Gene Wilder, Muhammad Ali, Florence Henderson, Leonard Cohen, George Michael..the list, depressingly, goes on.
From the site:
Help 2016 catch these hands if it goes anywhere near Betty White! If she's okay with it I will fly to where ever Betty White is and keep her safe till Jan 1 , 2017. Now , assuming she doesn't want a strange Greek standing gaurd outside her door all monies will be donated to the Spartanburg little theater to help craft new stars of stage and screen to carry mantle of the legends that have left is this year. [sic]
It's being reported elsewhere as just the go-and-protect-her part, which is creepy and weird! But I'm glad I went to the page and read the rest of it to find out it's actually a really clever viral fundraising scheme. Bravo!
Meanwhile, I am certain Betty White doesn't want "a strange Greek standing guard outside her door" but…can we wrap her in bubble wrap or something? 2016's got a few days left and who knows what it'll try to do.
Follow Andrea on twitter at @_AndreaDuffy